The long and winding road to a new life helping fellow refugees
27 October, 2021
It is hard to think of a more hazardous road than the one Sayed Musavie has navigated to make a new life in Australia helping people who are escaping persecution.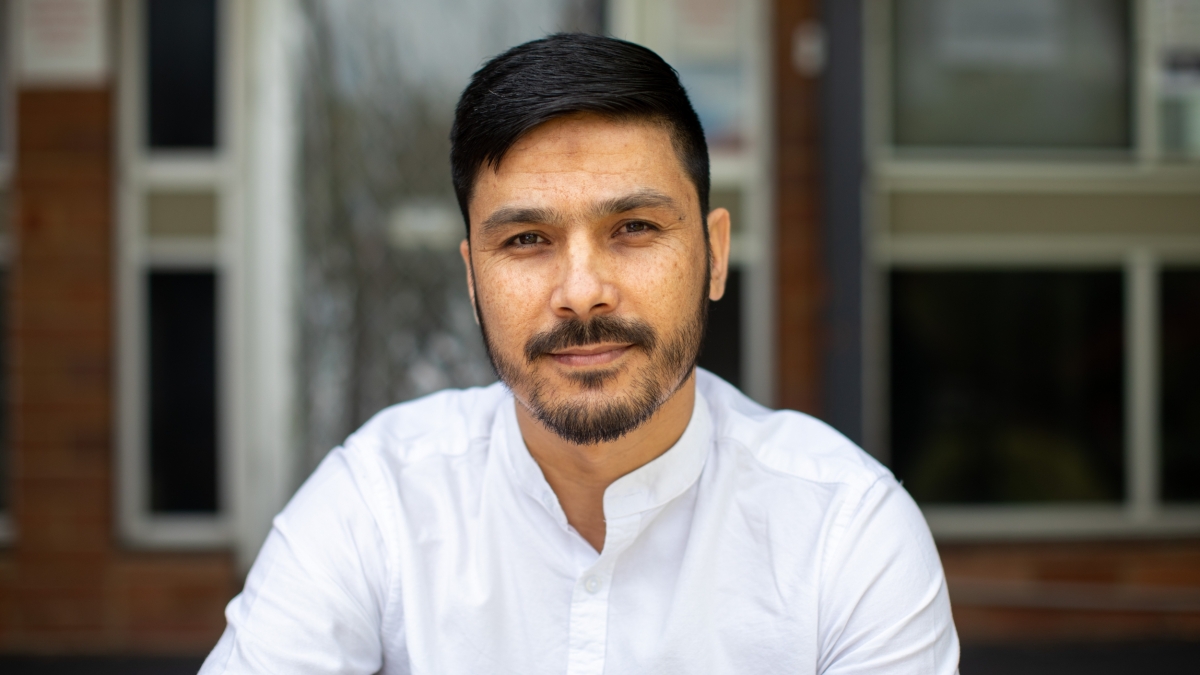 Sayed's journey to Australia began when he was just six years old after his family decided to flee Afghanistan in 1999.
They fled to Pakistan by road, but sadly Sayed's father was not with them – he had been killed by the Taliban.
Sayed recalled that his father, a humble farmer, had travelled overseas to Iran to study and returned as an advocate for the education of young people, including girls.
It was this altruistic passion that cost him his life.
It is more than a little ironic that after 20 years of conflict, Afghanistan, now back under Taliban control, may again become one of the world's most oppressive countries where women are deprived of fundamental rights and freedoms.
Sayed stayed in Pakistan until 2012 after crossing the border with his mother, siblings and uncle.
He decided to take the gamble on a new life and begin the journey to Australia by boat across the unforgiving and at times, treacherous open seas, including stops in Malaysia, Indonesia and finally the Australian territory of Christmas Island.
Sayed spent five months in three different detention centers before his application seeking asylum was processed.
"I was fortunate to have got through all my interviews and then I moved to Sydney,'' he said.
Building a new life in Australia was also to prove almost as testing as his around the world arrival.
"I tried to find a job, but it was very hard – I was coming from a different culture and very shy,'' Sayed said.
He worked as a security guard, in grocery stores, and even did a stint Uber driving.
But he wanted to find a vocation with meaning, so he enrolled in a community services TAFE course and recently graduated with a degree in social work.
Last year, he landed his dream job as a Project Officer with the Work and Welcome program.
The PAYCE Foundation has provided funding for the role.
The House of Welcome-run program helps refugees and people seeking asylum find work.
Under the program, organisations, including some of Australia's leading Catholic and Independent schools, provide funding for job placements via a workplace giving model.
The program also assists clients:
Create pathways to financial independence
Build confidence and self-esteem
Make connections and develop networks
Gain valuable experience in a supportive work environment
Find and transition to ongoing employment.
Sayed is relishing the opportunity to help people, just as he did, find their way to a better life.
"It is very exciting for me to get this opportunity,'' Sayed said.
"When I was in the detention centre, I really loved how a person comes to you and says: 'how can I help you?'
"That really touched me, and I wanted to do a similar job."
He said the Work and Welcome program provides critical assistance as many of the refugees are not eligible for government assistance.
Many of the clients he assists have overseas qualifications, but they are not recognised in Australia.
"It becomes a big barrier to finding employment," he said.
"The Work and Welcome program gives clients good local experience and a safe job with support.
"There is also assistance with further training and job opportunities and the job placement gives them good networks and people who could help them.''
Sayed said he tells clients Australia is the land of opportunity.
"I say just never lose your hope I know it is hard and frustrating but good days are going to come,'' he said.
"There is always light at the end of the tunnel.''
Sayed is a testament to that.