St Merkorious Finds a New Home!
9 March, 2018
The PAYCE Foundation Team was recently welcomed by St Merkorious Board members and staff to their new facility at Strathfield South.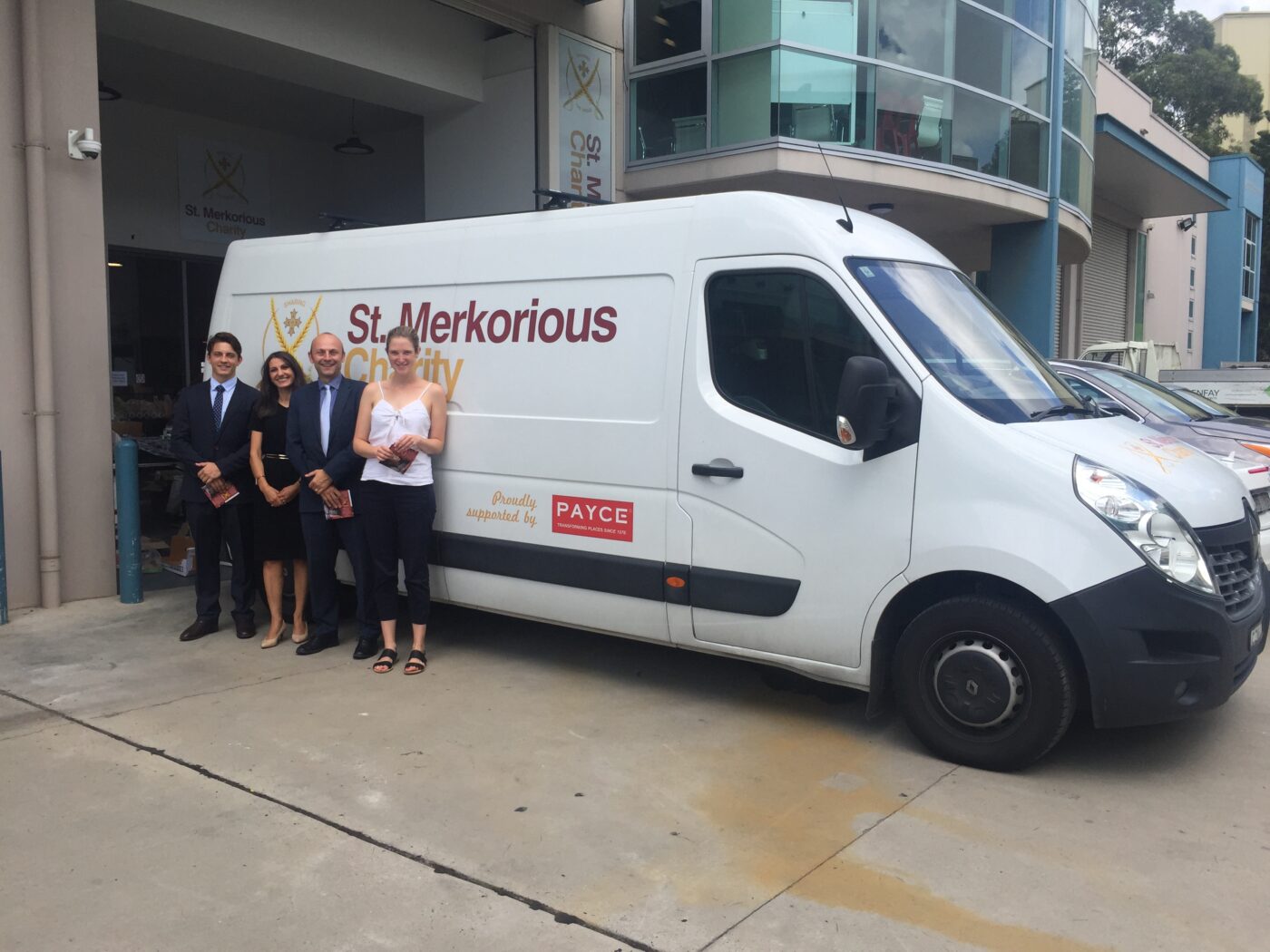 The St Merkorious Charity was established in 2013 by Paula Nicolas. Frustrated by the level of inaction in response to the disadvantage and suffering she observed in her own community, Paula began cooking for a small number of vulnerable families from her family kitchen.
The desire of one individual to provide practical assistance to ease suffering in her community has since grown to a team of over 100 staff and volunteers who produce and deliver 1200 meals to 400 families every week. Meals are prepared at their kitchen in Strathfield South and delivered to clients throughout Sydney who are elderly, sick or at risk of homelessness. By providing food and visiting people in their homes, St Merkorious hopes to restore dignity to the person and remind them that they are not forgotten.
"Our work is inspired by our belief in God and
our strong desire to share what we have with
the less fortunate. If we could think
of disadvantaged members of our community
as members of our own families we would give
everything we could to make their lives happy
and secure."
Paula Nicolas, President
In addition to preparing and delivering meals and food hampers, St Merkorious provides a weekly community meal at Fairfield Community Hall and runs the Fairfield Hub once a month. As well as offering a wholesome meal and practical support such as haircuts, second hand clothing and homewares, these community events are an opportunity for vulnerable and isolated members of the community to interact in a welcoming and safe environment. St Merkorious works with local services such as Settlement Services International to reach disadvantaged members of the community.
PAYCE has supported St Merkorious since 2015, providing yearly grants to support their operations and enable growth. In 2016 the PAYCE provided St Merkorious with funds to purchase a much needed refrigerated delivery van.  The van is on the road all day, collecting produce from Foodbank and delivering meals to clients. Last year PAYCE Foundation funds helped to establish the new state of the art kitchen in Strathfield South. This kitchen will enable St Merkorious to meet increasing demand for their services and explore growth opportunities.
The PAYCE Foundation will continue to explore new ways in which to partner with St Merkorious and support their valuable work. One such opportunity is a partnership with Kick Start Café that would provide Kick Start trainees with work experience at the St Merkorious kitchen one day per month.