David reflects on a job well done
26 May, 2022
When David Blomfield returned home to Coffs Harbour after a highly successful career in the agriculture industry over decades, he was looking for a new challenge.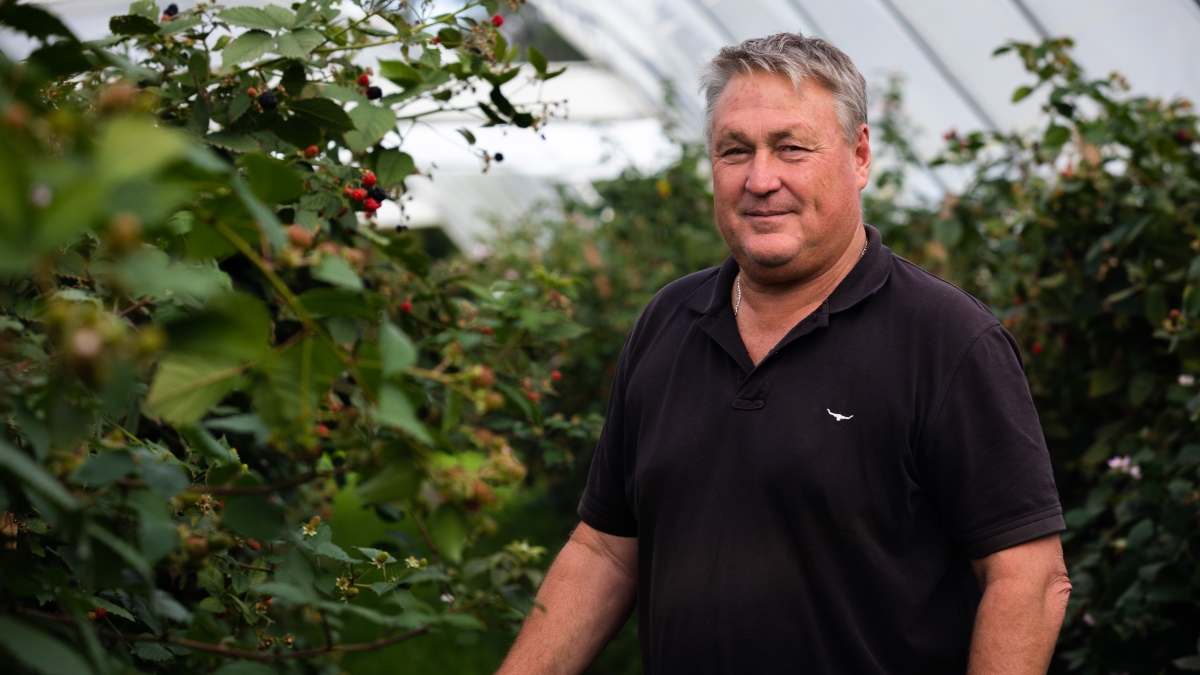 The recently established PAYCE-Foundation social enterprise, the Adele Training Farm, proved to be the perfect assignment.
It was a far cry from the broad-acre irrigation farming of the Murrumbidgee Irrigation Area.
Nestled in the picturesque Bucca Valley, about 30 kilometres north of Coffs Harbour, the farm produces organic blueberries and blackberries.
The berries can be challenging to grow commercially, susceptible to pests and requiring the right amount of sunlight and moisture and of course, the right type of soil conditions.
The Adele Training Farm also supports, Adele House, which is a newly built, $10 million residential drug and alcohol rehabilitation facility for men run by the Salvation Army.
Talking to David, you are struck by not only his passion for farming, his encyclopedic knowledge of how to grow the delicate crops of blueberries and blackberries, and his commitment to the social enterprise that is helping men get their life back on track.
When David first joined the Adele Training Farm team four years ago, the new facility was yet-to-built and the only facility for clients was a run-down house.
"When I first walked into the new facility – I thought this is amazing,'' he said.
"The standard of workmanship is fantastic, and it is really standing the test of time."
David and the Adele House team have worked together over several years to develop a new training program for clients to work on the Adele Training Farm.
This includes farm work, gardening and assisting staff on the blueberry and blackberry farm.
"We all sat down together and looked how we could run a work-skills program,'' he said.
"First, we ran a pilot and that was successful, so we expanded it further.''
Today, the demand is so strong from clients, who are paid after an initial training period, it is a challenge to find work for everyone who wants to participate.
"We really focus on making the clients feel part of the team here at the farm,'' he said.
"I have made many friends through the program and at Adele House.''
David is taking a well-earned break and moving on to some new business ventures but is adamant he will be on-hand to provide advice.
"The farm has come a long way and I think it has a lot of potential,'' he said.
As David contemplates the future, including an overseas holiday to catch up with his daughter, his first priority is this year's blueberry and blackberry crops.
And hopefully, his swansong season will deliver dry, sunny days and clear skies with full moons at night – the perfect combination for bringing on the best fruit.
PAYCE Director Dominic Sullivan thanked David for his outstanding service.
"The blueberry business, particularly organic fruit, is a complex crop and David has been instrumental in developing a successful social enterprise.''
"He's also been instrumental in developing our blackberry venture which is now delivering quality crops.
"David's commitment to assisting Adele House clients in the farm work program is greatly appreciated – it is a legacy that will help many men get their lives back on track.''